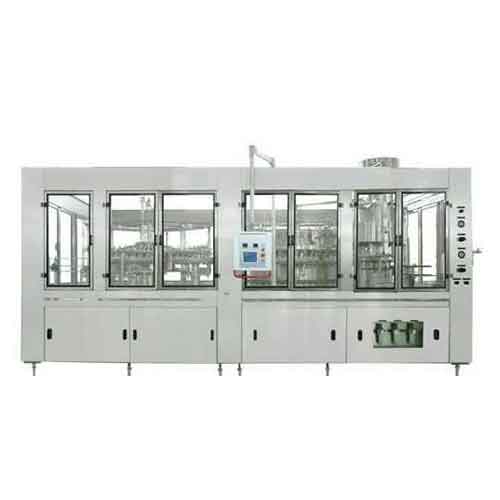 This equipment is equipped with CO2 accuracy pressure control to ensure liquid level is always stable. Host adopt advanced PLC automatic control technology, the key electrical components from famous company....Read more
VIDEO
Introduction
Three-in-one carbonated beverage filling machine is suitable for various modes of PET bottled CO2-contained beverage filling. It consists of full-automatic systems of washing, filling and sealing. With bottleneck lock technology, bottles could be replaced by adjusting height of conveyor chain. Hydraulic filling mode makes filling speed faster and more stable. Main frame is controlled by PLC programmable automatic control system. The key electrical components are internationally famous brands. The design of the whole machine is scientific and reasonable, the output is high, and the failure rate is low。
System composition
1. Filling system: it consists of filling valve (air release valve), filling cylinder, liquid level control device, air cylinder used for valve lifting and cylinder height adjusting device, etc.
2. Driving system: it is drived by capping machine. The reducer is drived after speed ratio being changed by primary chain wheel. Then wheel gear on reducer output shaft drives filling cylinder and other parts.
3. Feeding system: it consists of feeding screw, stop device, feeding wheel and other baffle parts.
4. Pipeline control system: it consists of liquid distributor, pneumatic control cabinet and pipeline for liquid feeding and CIP.
5. Control system: it is a control device to open the filling valve, which is mounted on filling machine outer stand.
6. Machine frame and safety door (cover): the frame is used for supporting and mounting driving system and other parts. And the safety cover is around the machine.
7. Both positive pressure and negative pressure could be adjusted to use.
8. Filling machine and sealing machine could be separated or integrated.
Feature
1. Air duct is directly connected to feeding wheel. Bottleneck locking mechanism with bottle grouping function make handle easier. Bottleneck locking technology is used in feeding process. Bottle could be replaced by adjust some components without changing machine height.
2. All stainless steel washing machine clamps are solid and durable. No touch with bottle mouth avoids the secondary pollution.
3. The filling valve is health and easy to clean. Filling valve with CIP loop and control system makes washing cleaner and more reliable.
4. Bottle discharging layer board adopts spiral dives mode. Bottles could be replaced by related arc panel and wheel without adjusting conveyor chain height. The whole replacement process only needs 10 min.
5. Bottle deliver all use bottleneck lock technology, no need to adjust the height of the machine when change different bottles.
Technical parameter
| | | | | | | | |
| --- | --- | --- | --- | --- | --- | --- | --- |
| Model | CF-12-12-5D | CF-18-18-6D | CF-24-24-8D | CF-32-32-10D | CF-40-40-12D | CF-50-50-12D | CF-60-60-15D |
| Capacity | 3000 | 6000 | 8000 | 12000 | 15000 | 18000 | 2000 |
| Power | 4.3KW | 4.8KW | 5.6KW | 8.2KW | 9.5KW | 11KW | 13KW |
| Dimension | 2200*1600*2000 | 2500*1750*2200 | 2950*2150*2200 | 3720*2800*2200 | 4180*3200*2200 | 4720*3550*2750 | 6000*5450*2750 |
| Weight | 2400 | 2900 | 3300 | 4100 | 5300 | 6500 | 7500 |