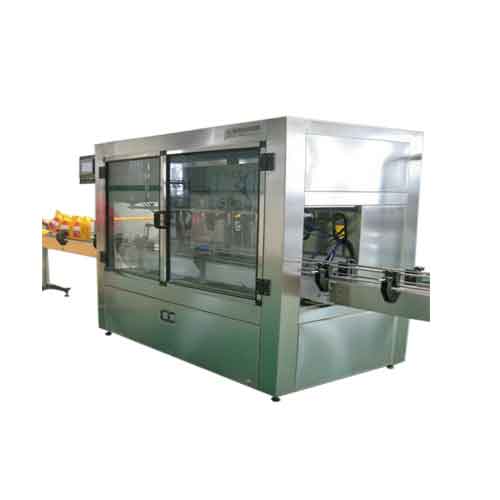 oil filling machine is a high-tech filling equipment integrating on the PLC microcomputer programmable control, and photo electricity transduction pneumatic action. The machine is especially suitable for foodstuff....Read more
Automatic Oil Flow-actuated Filling Machine
VIDEO
Introduction
Automatic oil filling machine is composed of main frame, MB (planetary bevel-type) stepless speed regulating conveyor, pneumatic/electric cap screwing machine, pneumatic/electric gland cover machine, vacuum suction device and PLC control system, etc. The air source is compressed air.
Application
It is applied to liquid with certain concentration and viscosity, we are specialized in olive oil filling machine, cooking oil filling machine, palm oil filling machine, brake oil filling machine, etc.
Feature
A、Both volume and quality could be set up as the filling type.
B、With unique filling head design and vacuum suction system, there is no leakage of residual oil. Variable filling rate avoid overflow.
C、Dynamic filling without high level tank simplifies assembling process and improves filing efficiency.
D、Crawler-type gland cover machine, which is noiseless and no air pressure.
E、Siemens PLC control system with high computing speed and stable performance is in high quality. And it is simple to handle with a user-friendly touch-screen operating interface.
F、All electronic components of the oil filling line with good quality makes machine running stably.
G、Equipped with the built-in filling head, oil oxidation is lower and contact between oil and air is reduced. After filling, the residual oil could be sucked back continuously. There is no leakage in production and the specific filling nozzle applied to oblique bottle opening could be customized.
Technical Parameter
No.
Model
ZLDG-2
ZLDG-4
ZLDG-6
ZLDG-8
ZLDG-10
ZLDG-12
1
Qty of filling head
2
4
6
8
10
12
2
Filling volume
100-10000ml
3
Filling capacity (bottle/h)
350-500
750-900
1000-1300
1350-1500
1600-1800
1850-2300
4
Filling accuracy
≤0.2%
5
Power supply
50HZ/60HZ 3N-380V 土 10%
6
Power
0.75KW-7.5KW
7

Matched air supply pressure

0.5-0.8MPa

8
Working pressure
0.6-0.7MPa
Note: filling capacity is as per 4 L bottle and inlet pressure of 0.45-0.7 MPa.