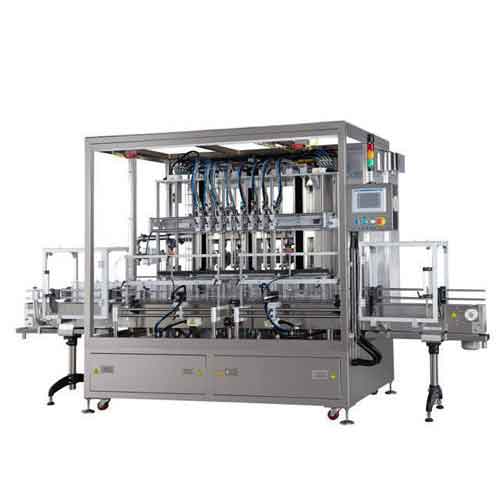 The machine suits for the filling of different sizes of vessel may change the filling sizes within a few minutes. Each filling-head is equipped with a bottle-mouth-clamping device, ensuring the injecting material correct aiming at....Read more
Automatic sauce bottle filling machine
VIDEO
Introduction
Automatic linear type sauce filling machine adopts world advanced technology, controlled by PLC and electronic optical fiber sensor, microcomputer text display and manual interface operation, no bottle no filling, with function of automatic counting, it can record the production capacity of one day or one month. The whole sauce packing machine is made of stainless steel, drip free, no drawing, easy to clean and seamless, it is fully meet the requirements of food safety and hygiene standards.
Application
Automatic sauce filling equipment is mainly used in food sauce filling such as peanut sauce filling, chili sauce filling, spicy sauce filling, pasta sauce filling, bean sauce filling etc.
The influence factors of equipment
1. the filling precision will be influenced by the factors such as the stability of pressure, the homogeneity of material and the filling speed etc.
2. The filling speed will be influenced by the factors such as the viscosity of material, the stroke of the cylinder, the size of filling nozzle and the conveyor speed.
The adjustment of filling precision
Filling error: ±1%. the error of jam filling machine is mainly determined by the filling capacity, filling speed and the speed of the upper and lower valves. And the open and close speed of the upper and lower valves is related to the viscosity of the product, more viscosity the speed more slow. Adjust the open and close speed is mainly need to adjust the valve spring pressure, when increase of the valve spring pressure, the open and closed speed of valve fast.
The adjust of the filling valve spring pressure is determined by the worker's experience.
Features
1. fully automatic and stable performance. It sets bottle convey, empty bottle location, accounting and finished product convey in one.
2. Using stainless steel ram pump quantitative filling, suitable for filling viscous material. Stable filling and accurate account.
3. Material contact part all use 304 stainless steel
4. Using quick connection device to connect the measuring pump, hopper, valve and filling nozzle, easy to dismounting, clean and sterilize.
5. The material of plunger type metering pump piston ring use PTFE, thermostability.
6. The PLC Programmable Logic Controller use Taiwan Delta brand, frequency control, high degree of automation.
7. The servo motor and touch screen use Mitsubishi brand, stable filling, high filling precision. Different filling specification can be set on the touch screen. Easy operate and fast adjust.
8. Photoelectric sensing induction use OMRON brand, accurate location, no bottle no filling and automatic counting.
9. The height and the left and right distance of the filling head are adjustable.
10. The filling head with the function of anti - drip to ensure the clean when filling.
11. The storage hopper on the sticky sauce filling machineis double layer with thermal insulation function.
12. The whole machine is made of 304 stainless steel.
13. It suitable for different specification of bottles. Easy to adjust
14. Frequency control, it can be run by single machine and can be connected with other equipment.
Technical parameter
| | | | |
| --- | --- | --- | --- |
| Model | GLGZ-4 | GLGZ-8 | GLGZ-12 |
| Filling nozzle | 4 | 8 | 12 |
| Capacity | 1000-2500 | 2500-4000 | 4000-6000 |
| Filling specification | 20-1000ml | 20-1000ml | 20-1000ml |
| Diameter of bottle | Φ20-Φ150mm | Φ20-Φ150mm | Φ20-Φ150mm |
| Specification of cap | Φ20-Φ70mm | Φ20-Φ70mm | Φ20-Φ70mm |
| power | 3.5KW | 4.5KW | 6KW |
| Size of machine | 2000*1500*2200 | 2400*1500*2200 | 2600*1500*2200 |