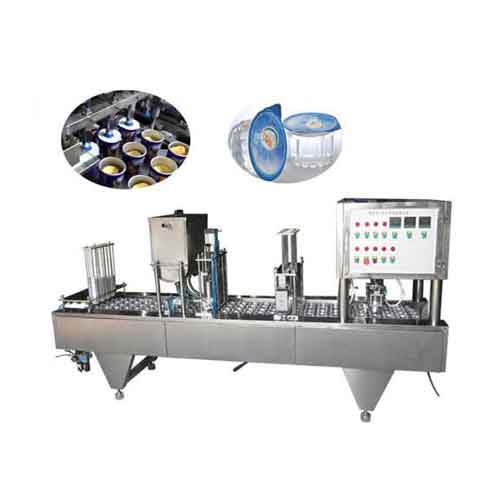 Cups filling and Sealing Machine can automatically fill and seal from sending cups, filling, liquid level controlling, putting covers, twice sealing, to pro-piping, pushing cups and transporting....Read more
VIDEO
Introduction
This cups filling and foil sealing machine is a multifunctional high-speed full automatic machine specially designed for liquid or semi-liquid (such as water, milk, yogurt, olive oil, fruit juice, tomato sauce, honey) to be filled and sealed. The machine applied with world famous electrical and pneumatic components. High quality, high stability, long service life. All the parts of this cups filling and foil sealing machines are made of food grade #304 stainless steel.
Features:
1. Advanced design, reasonable structure, and reliable performance;
2. Fully automatic operation, adjustable production speed, easy operation, safety, increase productivity, reduces labor costs;
3. Photoelectric sensor track ensure accurate sealing;
4. Twice sealing, sealing pressure can be adjusted according to customer requirements as easy or difficult to tear, reflecting greater humanization design;
5. Seal firmly and smooth flawless;
6. Customize equipment according to the customer requirements and other accessibility features;
7. Configuration: this cup filling and sealing machine uses the channel steel, welded together, after 3 times anti-rust treatment, outsourcing #304 stainless steel. Exposed parts are made of rust-proof handle.
Structure:
Aluminum mould: Aluminum Acid-resistant mould, with no deformation, corrosion-resistant features, high hardness, long service life.
Rack section: Made of high quality carbon steel welded together, spray paint, and then covered with 304 stainless steel, touching the ground with strong bolts. Can also make the whole machine stainless steel.
Transmission system: Well-known brands of motor, reducer, transmission, cam-splitters, template chains, such as: Mitsubishi Electric.
Falling cups system: Machine automatically one by one fall cup, stable and efficient.
Filling system: Storage tanks made of #304 stainless steel, volume can be customized. Filling volume can be adjusted freely, accurate high precision, anti-leak, you can add mixing system insulation and heating systems.
Put on foils: Automatic suck foils by vacuum then put above the cups, high accuracy, saving time and efficiency.
Sealing system: Constant temperature (intelligent temperature) twice sealing, sealing heads made of copper, good thermal conductivity, strong.
Cutting film: Cold cutting, cut out the covering film easy opening;
Put out cups: Can be equipped with a vacuum suction cup arm system, external conveyor;
Control system: the roll film cups filling and sealing machine use Omron and Siemens PLC programmable, relays, the main components for domestic and international famous brands, Siemens touch screen.
Automatic cups filling and sealing machine, adopting chain step transmission mechanism. 24 hours of continuous work. The electrical and pneumatic components are Germany, and France, and Japan and other international brands. Can be configured as required joint control system human-machine interface, PLC.
Specifications:
| | | | | | | |
| --- | --- | --- | --- | --- | --- | --- |
| Model | Filling range | Capacity | Gas Consumption | Air Pressure | Supply Power | Weight |
| YY-9000A-2 | 20-500ml | 1400-1600pcs/h | 600L/min | 0.6-0.8MPa | 220V 50Hz | 650KG |
| YY-9000A-4 | 20-500ml | 2800-3200pcs/h | 800L/min | 0.6-0.8MPa | 220V 50Hz | 900KG |
| YY-9000A-6 | 20-500ml | 4200-5000pcs/h | 1000L/min | 0.6-0.8MPa | 380V 50Hz | 1200KG |
| YY-9000A-8 | 20-500ml | 5600-6500pcs/h | 1000L/min | 0.6-0.8MPa | 380V 50Hz | 1500KG |
| YY-9000D-4 | 20-500ml | 1500-2100pcs/h | 800L/min | 0.6-0.8MPa | 220V 50Hz | 900KG |