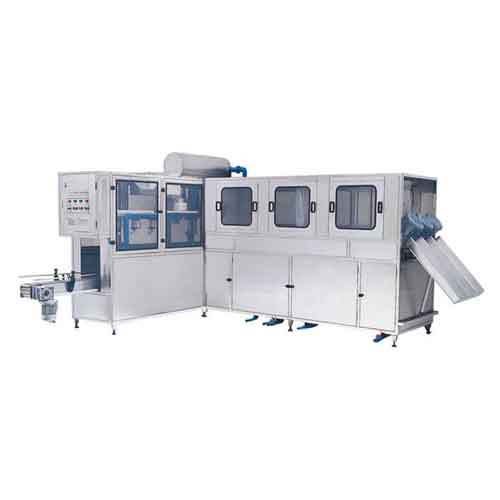 Process of this filling machine are:Automatic decapper→Automatic washing bottle outer & inter machine→Automatic bottle-loading→Automatic washing bottle inside filling capping machine→light checking &heat shrinking machine...Read more
VIDEO
Introduction
This pet bottle filling machine is composed of barrel washing, filling and sealing. It is specialized in filling 3gal or 5gal barreled drinking water. There are model 100, model 200, model 300, model 450, model 600, model 900 and model 1200 to be selected. Washing machine washes and sterilizes barrel by multiply spraying cleaning solution and disinfectant. The disinfectant could be recycled. Automatic sealing machine ensures barrel cap sterile and clean. With advantages of complete functions, novel design and high degree of automation, the drinking water bottle filling machine is a new electromechanical barreled drinking water filling equipment, which owns automatic functions of washing, sterilizing, filling, capping, counting and output.
Feature
1. The liquid filling machine consists of stainless square tube bonding wire 25×25, drive mechanism, pneumatic reversing capping, electric control and water tank spray device, etc. Weld assembly is hard-wearing and corrosion resistant.
2. It adopts circulating water supply, non-circulating water supply and compound water supply. Any mode could be selected as required.
3. Good cleaning effect. It washes inner and outer surface of the barrel all around.
4. The whole washing process only takes two steps: open and close the door.
5. Automatic water filling machine adopts three-phase four-wire system. N is null line. Fill water into tank after power on and check motor rotate direction. Connect switch and turn on the panel power. Then unfold the cover and the machine will run.
6. Cap opening machine is used for separation of cap and the drinking water recycling barrel(3gal or 5gal) without wear and distortion. The barrel could be reused after sterilizing.
7. It adopts pneumatic power with air supply pressure of 0.5MP/cm
2
, air supply capacity of 0.1m
2
/min, operational capacity of 200-300pcs/h. Turn on the air supply, then the machine will run by connecting foot switch and main pipe.
Technical parameter
Model

NT-120

NT-300

NT-450

NT-600

NT-900

NT-1200

Filling head qty

1

2

3

4

6

8

Volume

3gal or 5gal

3gal or 5gal

3gal or 5gal

3gal or 5gal

3gal or 5gal

3gal or 5gal

Dimension

Φ240*430
Φ270*490
Φ240*430
Φ270*490
Φ240*430
Φ270*490
Φ240*430
Φ270*490
Φ240*430
Φ270*490
Φ240*430
Φ270*490

Capacity

120

300

450

600

900

1200

Air supply pressure

0.4-0.6

0.4-0.6

0.4-0.6

0.6

0.6

0.6

Air consumption

0.37

0.6

0.8

1

1.5

1.8

Power

1.38

3.8

3.8

7.5

9.75

13.5

Weight

680

1500

2100

3000

3500

4500