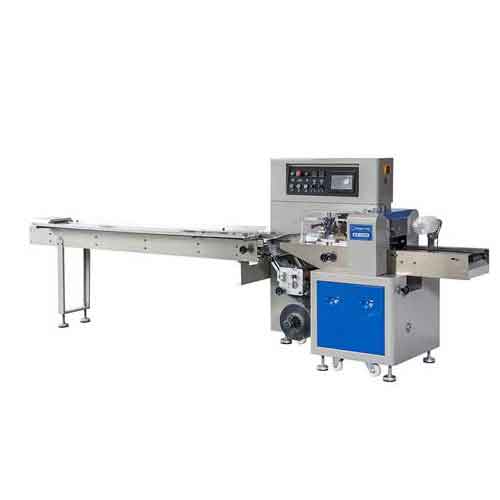 Down-paper Pillow Packing Machine use separate PID control to temperature, suitable for various packing materials, simple driving system, reliable working. no waste packing film....Read more
VIDEO
Introduction
Automatic down-paper pillow packaging machine is also called horizontal down-paper flow packing machine. It is controlled by touch screen controller with human-machine interface, and is easy to set parameter, works in high speed with high efficiency. It is suitable for all kinds of packaging materials.
Application:
Packaging various kinds of regular objects like Food (Snack bar, biscuits, pies, chocolates, ice lolly, bread, instant noodles. moon-cakes, drugs, daily appliances( Soap, sponge, tissue, Card ), industrial parts( handle, bearing, Car parts, washer ),paper boxes, plates, plastic(cutlery, tray) etc.
Specification:
Type

YY-250X

YY-350X

YY-450X

YY-600X

YY-700X

Film Width
Max.250mm
Max.350mm
Max.450mm
Max.600mm
MAX.700mm
Bag Length
65-190 or 120-280mm
65-190 or 120-280mm
120-450mm
120-500mm
120-600mm
Bag Width
30-110mm
50-160mm
50-180mm
100-280mm
100-330mm
Product Height
Max.45MM
Max.65mm
Max.80mm
Max.110mm
MAX.110mm
Film roll diameter
MAX.320mm
Packing Speed
40-230bag/min
40-230bag/min
40-150bag/min
20-150bag/min
20-130bag/min
Power
220V 50/60HZ
2.4KW
220V 50/60HZ
2.8W
220V 50/60HZ
2.8KW
220V 50/60HZ
2.8KW
220V 50/60HZ
2.8KW
Machine Size
3920X670X1320mm
4020X720X1320mm
4020X820X1320mm
4020X820X1320mm
4020X820X1320mm
Machine Quality
500KG
550KG
650KG
680KG
720kg
Features:
1. The pillow bag packing machines adopts photoelectric tracing technology and digital input to ensure accurate sealing & cutting position.
2. Self alarm display the malfunction.
3. Constant temperature control and intelligent control on the flow packing machinery.
4. Adopt dual frequency conversion controller, the length of bag can be set and cut at any time without the need to adjust trail operation. It is time saving and film saving.
5. The pillow packaging machine can set the machine stopping position, no sticking to the knife and no film wasted.
Main function:
1. Double transducer control, flexible bag length cutting, operator needn't to adjust the unloading working, saving time and saving films.
2. Human-machine operation, convenient and quick parameter setting.
3. Self diagnosis failure function, clear failure display.
4. High sensitivity optical electric color mark tracking digital input cut position which makes the sealing and cutting more accurate.
5. Separate PID control to temperature, suitable for various packing materials.
6. Stopping the machine in selected position, no sticking to the knife and no waste packing film.
7. Simple driving system, reliable working, convenient maintenance.
8. All the controls on the down-paper pillow package machinery are achieved by software, convenient for function adjusting and upgrading.
Bag type: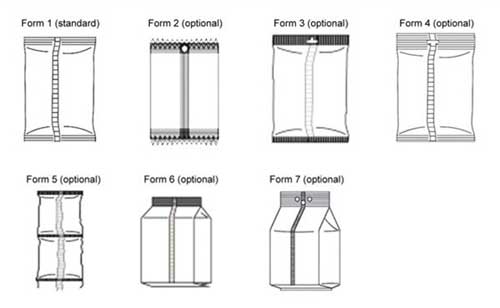 Optional accessories
1: Date Coder
2: Touchable Screen
3: Automatic Punching Device
4: Alternative sealing patterns and notch
5: Auto labeling device
6: Deoxidizer chute device
7: Gas flushing device
8: Alcohol spraying device 9: Auto feeder