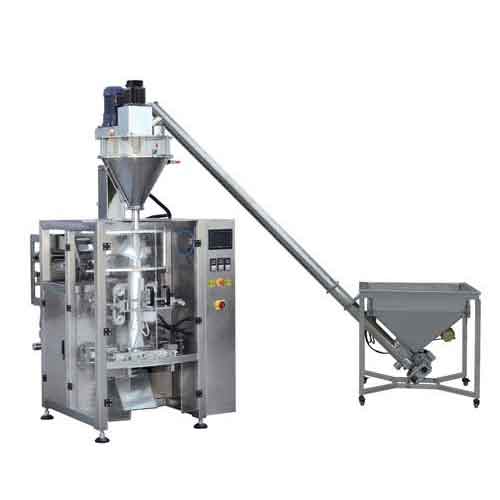 Back sides sealing powder packing machine is suitable for measuring easy free-flow or poor-flow powder items. It can finish the whole weighing, filling and measuring by the servo motor....Read more
VIDEO
Introduction
1. This back sealing powder packing machine forms a complete set of simple structure, easy to operate.
2. Color in English touch-screen, processes of bag making, measuring, filling, sealing, code, cut bag can be finished one-time.
3. Powder measuring machine for the open house, clean sanitation, maintenance more convenient.
4. The powdery packing machine adopts high precision servo film transport system, PLC program control, developed touchable human-machine interface of advanced automatic positioning, photoelectric tracking, digital temperature controlled.
5. Operation is simpler, perfect. It is the first choice of food packaging industry to improve the production efficiency, reduce labor intensity, and improve the grade of packaging equipment.
6. Packaging material can be PE/polyethylene, PE/aluminum plating, pet/PE, pp, and other heat sealing packaging materials, etc.
Application:
Back sealing packing powder pouch machine is applicable to flour, milk powder, soybean powder, coffee powder, washing powder and other powder material of packing.
Features:
1. English touch screen display, intuitive and simple operation.
2. PLC computer control system, the operation is more stable, no need stop and adjust any parameters.
3. This powder filling machinery can store 10 group parameters, the replacement of varieties more accurate.
4. Adopt double servo motor control system, the tension membrane more accurate, faster, more accurate measurement.
5. This pillow bag powder packing machine has independent temperature control system, the precision can be up to + / - 1 degrees.
6. Transverse and longitudinal sealing temperature control independently, suitable for all kinds of composite film, PE film packaging materials, etc.
7. Packaging style diversified, back sealing, Gusset Bag, continuous bags, punching, etc.
Production of bag making, sealing, packing, date printing one time.
8. Work environment quiet, low noise, saving energy.
Specification:
Model

YY-420

YY-520

YY-720

Bag Length
80-300mm
100-400mm
100-480mm
Bag Width
50-200mm
80-250mm
180-320mm
Measuring Range
Max.1200g
Max.3000g
Max.6000g
Packing speed
Max 60bags/min
Max 60bags/min
Max 60bags/min
Weighing accuracy
± 0.3-1.5%
± 0.3-1.5%
± 0.3-1.5%
Power source
220/380V 1.8kw
220V/380V 2.5KW
220V/380V 3KW
Outline dimensions
L1050*W950*H1360mm
L1150*W1795*H1650mm
L1780*W1350*H1950mm
Weight of machine
540kg
600kg
700kg
Sealing Method
Pillow bag/Gusset bag/Box bag/Pillow bag with punch hole/ Gusset bag with punch hole
Working Principle:
1). Filling products on feed hopper of screw feeder on floor;
2). Products will be lifted on the top of auger for feeding;
3). Auger Filler will automatic weighing according to preset weight;
4). Preset weight products will be filled into VFFS machine for bag sealing;
5). Finished package will be outputted to next equipment (check weigher, collect table, etc).
Optional Function:
1. Hole punch device
2. Tear notch device
3. Link bag device
4. Flip device
5. Gusset bag
6. Dust collected device
7. Static charge Eliminator
8. PE bag device
Optional External Device:
1. Air Compressor
2. Check weigher
3. Metal detector