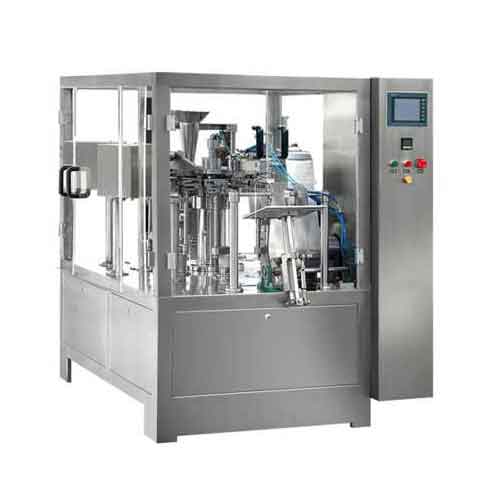 Automatic bag-given granule packing machine use ready-made bag, operator only need to place the bags in the bag taking device one time, it can complete the whole packing process automatically....Read more
VIDEO
Introduction
The full automatic bag-given packing machine is designed to meet the large enterprises, small and medium-sized enterprises to realize the automatic packaging instead of manual packaging. The operator only need to place the hundreds of bags in the bag taking device one time, this bag-given granule packing machine can complete the whole packing process automatically, improving the production efficiency and greatly reducing the cost. It is a multi-purpose bag-given package machine, equipped with different counting device can pack kinds of product such as powder, liquid, granule, etc.
Features:
Easy to operate, adopt advanced PLC form Germany Siemens, mate with touch screen and electric control system, the man-machine interface is friendly.
Automatic checking: No pouch or pouch open error, no fill, no seal. The bag can be used again, avoid wasting packing materials and raw materials.
Safety device: Machine stop at abnormal air pressure, heat disconnection alarm.
The width of the bags could be adjusted by electrical motor. Press the control-button could adjust the width of all clips, easily operate, and raw materials.
Double-filling working position, it also could fill two different kind materials etc.
The part contacting the material is made of stainless steel which accord with the food hygiene requirements, health and safety.
Application:
The auto bag-given granule filling machine has widely packaging range, with different feeders, it can be applied to pack the liquid, paste, powder, granules, irregular lump material, etc.
1. Lumps: candy, chocolate, biscuit, peanut, beans, nuts, puffed food, cakes, etc.
2. Granules: granular drug, capsule, seed, sugar, essence of chicken, pesticide, fertilizer, feed, etc.
3. Powder: spices, milk powder, glucose, washing powder, chemical raw material, refined sugar, etc.
4. Liquid / paste: detergent, yellow wine, soy sauce, vinegar, fruit juice, tomato sauce, peanut butter, jam, chili sauce, bean paste, etc.
Working Process:
6-Station Rotary Weighing & Packaging Line
Step 1: Bag feeding
Feed many pouches or bags in the bag magazine, our main bag magazine can move up and down, you can feed bags very easily when it moved down, and when it moved up, there are a mechanical arm with two vacuum caps will take bag up and then transmit it to the mechanical gripper on the rotary table.
Step 2: Date printing (optional)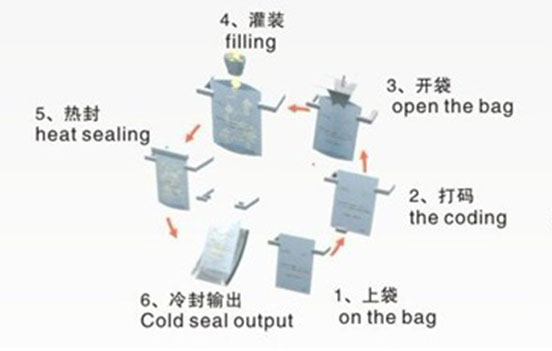 8-Station Rotary Weighing & Packaging Line
Step 1: Bag feeding
Step 2: Date printing (optional)
Step 3: Set aside station (zippered bag)
Step 4: Opening
Step5: Filling
Step 6: Set aside station (adjust, dust remove, secondary feeding)
Step7: Hot sealing
Step8: Cold seal output
Step 3: Opening
Open stand (flat) pouches from top and bottom with two sets vacuum caps.
Step 4: Filling
There is an opening detection device inserted into the open bag or pouch to expand it and detect if it is open or not.
Step5: Sealing
Seal the bag.
Step6: cold seal output
To make the sealing stable and preventing from wrinkling with a couple of cold press, then output the finished the production automatically.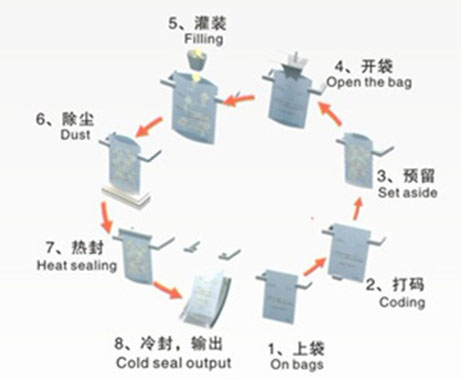 Specification:
6-Station Rotary Weighing & Packaging Line
Model

YY-200-G

YY-230-G

YY-300-G

Pouch Type
Flat bag, 3-side sealing bag, 4-side sealing bag, zipper bag, standup bag, spout bag etc…
Pouch Material
Laminated film, PP, PE etc…
Pouch size
W:80-210mm L:150-300mm
W:80-230mm L:150-300mm
W:150-300mm L:150-300mm
Packing weight
5-1500g
5-1500g
5-1500g
Packing Speed
20-50Bags/Min (depends on the packing material and filling weight)
30-60Bags/Min (depends on the packing material and filling weight)
20-40Bags/Min (depends on the packing material and filling weight)
Packing Accuracy
≤±1%
≤±1%
≤±1%
Power
3.5KW,AC380V,50HZ
3.5KW,AC380V,50HZ
4.2KW,AC380V,50HZ
Dimensions (L*W*H)
2200*2000*3000mm
2200*2000*3000mm
2770*2400*3200mm
8-Station Rotary Weighing & Packaging Line
Model

YY8-200-G

YY8-230-G

YY8-300-G

Pouch Type
Flat bag, 3-side sealing bag, 4-side sealing bag, zipper bag, standup bag, spout bag etc…
Pouch Material
Laminated film, PP, PE etc…
Pouch size
W:80-220mm L:150-300mm
W:80-230mm L:150-300mm
W:150-300mm L:150-300mm
Packing weight
5-1500g
5-1500g
5-1500g
Packing Speed
20-50Bags/Min (depends on the packing material and filling weight)
30-60Bags/Min (depends on the packing material and filling weight)
15-30Bags/Min (depends on the packing material and filling weight)
Packing Accuracy
≤±1%
≤±1%
≤±1%
Power
3.85KW,AC380V,50HZ
3.85KW,AC380V,50HZ
4.5KW,AC380V,50HZ
Dimensions (L*W*H)
2600*2200*3000mm
2600*2200*3000mm
3200*2550*3350mm